Welcome to Mo' Soul Episode 6!
First up, some not so shameless self promotion!

Those of you that bounce by here on the regular may already be aware of the Betterdays 10 Year Funkaversary party that I'll be throwing with my old DJ crew in London on Saturday 6th July.
We'll be taking over The Buffalo Bar in Islington for a night of Funk, Soul, Disco and everything in between and this time round we are doing it for an extremely good cause to boot! We're raising some much needed cash for our friends son, Ted who was born with spastic quadriplegic cerebral palsy.

All we ask from you is that you visit the special Just Giving Page we've set up, leave your name and donate £5. This will get you guest list entry for a whole night of fantastic music and dance floor action.
Click
HERE
for all the details and relevant links you'll need. Get involved!
So, onto today's new episode and first up is Lee Dorsey with 'Little Ba-by' on the Bell record label. Lee Dorsey started out as a car mechanic and a heavyweight prize fighter before moving into the music industry after a chance meeting with Allen Toussaint. Thank God he did as I would have to personally list several of his 45s up there with my favourites! This is one of Dorsey's lesser known records for reasons unknown to me! Featuring a fantastic piano riff and those trademark fatback drums this is a real winner in my book!
Lee Dorsey




Mary Ann Fisher may be familiar to those amongst you who are versed to a bit of Ray Charles. She was the first to join his backing group The Raelettes, enjoyed a tumultuous relationship with Brother Ray and can be heard singing on several of his hits. This illusive R&B burner from the Fire label has just been given a fresh outing through the Jukebox Jam team with a tasty limited run of 500 pressings. Be sure to grab a copy while you can as this is a hell of a record! Mary Ann's aggressive vocals lead out over a sultry backing track with wailing horns and swing drums that will leave you gasping for more by the end. Pure class!


Staying on the Ray Charles tip is Annie Williams and 'I've Got A Man'. A nod to Ray's 1954 Atlantic hit 'I Got A Woman', which is rightly credited as one of the building blocks of Soul music as we know it. The Ray Charles version has been covered, tweaked and remoulded more times than I care to mention but this reworking is credible and more than stands up against the original.


'Papa's Got The Wagon' is one of my favourite 45s from James Brown's side project the People Record Label. Used as a platform to showcase the various talents of his backing singers and associated acts, James Brown produced an enormous amount of hits and classics in a short space of time across the label. Gloria Walker was a fellow Georgia singer and she drops some great vocals over what is undoubtedly an infectious groove. I can still remember getting this 45 home and sitting up late at night dropping the needle over and over again until shards of daylight prompted me to get my act together and go to bed. Even after all these years it still sounds as fresh as that first listen!


Keeping it funky, Kenny Smith & The Loveliters step up with a pounding Deep Funk banger straight from Cincinnati, Ohio. This is one of 3 different versions released of this record and this cut is my favourite. This version featured on the Floe-Ro label from 1969 and really does the business with its thundering bass and punchy horns. A real full on dance floor destroyer!


The Hypnotic Brass Ensemble feature eight of the sons of Sun Ra's Kelan Phil Cohran. This punchy number really showcases their sound and ability as a Brass outfit. 'Flipside' was included on their 2006 10 inch released through Honest Jon's Record label, a format they seem to favour.





The Hypnotic Brass Ensemble - Flipside - Oxford Arts Factory, Sydney, 2012




Back to Cincinnati, Ohio for this 1971 release from the Pace-Setters. 'Push On Jesse Jackson' seems to be a response record in support to political activist, Jesse Jackson's claims that record companies were corrupting the minds and morals of the youth of that time. Jackson had organised a civil rights organisation called Operation PUSH (People United To Save/Serve Humanity) which was aimed at black empowerment, social justice and civil rights and had started to make some waves after its formation around this time. Musically this is a pounding Hammond romp and notably features Bootsy and his brother Catfish Collins. The Pace-Setters eventually became the Pace Makers and then went onto form part of The JB's. The rest is Funk history!

Chris Kenner's 1957 release was a minor local hit for Lew Chudd's New Orleans Imperial Record label before being covered and released by Fats Domino just a year later. It hit #22 and #14 on the US Hot 100 and US R&B charts respectively and confirmed Fats Domino's continuing rise to fame. Personally I prefer Chris Kenner's version which has a real raw Nola vibe to it compared to the more polished Fats release. Top Stuff!

Soul pioneer, Jimmy Hughes is up next with this illusive B-side from Fame records. Originally released in 1966, this unfortunately saw limited recognition and after being overlooked, faded into obscurity. Luckily it was recently included in last year's Record Store Day special Fame Records Boxset from Ace Records, something I was lucky enough to pick up.
Jimmy Hughes


Chris Tyler recorded only one record as Big "T" Tyler and this absolute monster (excuse the pun, I'll get my coat!) was it. Released on the California based Aladdin label and featuring Earl Palmer on drums, 'King Kong' was pretty much a flop at the time? Who knows why, as one listen is enough to hook you in. It did also see a UK release through Vogue in the same year but again with little more impact than its US counterpart. I'm more than happy to revive it for your ears and it's nice to see it getting plays again on the scene.
'Shambalor' was a record that seemed to pass me by until I heard it recently in the 50's styled barber shop of legendary Mothercutter, Mister Ducktail whilst getting my lid sorted! Struggling to sit still to this whilst getting my cut prompted me to rush home and search for a copy on the interwebs. 1958 saw Elmore Sheriff hook up with a local street corner group, The Ravels who recorded this slice of rocking Doo-Wop nonsense under the guidance of actor and fellow Doo-Wopper, Aki Aleong on the Vee-Jay label.
'The Originator', Bo Diddley drops his 1955 single 'Bring It To Jerome', a nod to percussionist Jerome Green. Allegedly Jerome Green switched from the Tuba to playing percussion in the early 50's and on finding out that moving and setting up a drum kit was such a hassle opted to play maracas instead! He can be heard across several Chess recordings of that era. There are several stripped down versions of this single about but this is the full on flesh and bones version and is my favourite!
Adam Burney is a seasoned Harmonica player having played with The Southern Sound & The Blue Mambas. Here he gives the previous track a new fresh spin with his recent release 'Return Of Jerome' on the consistently excellent Rollin' Records. This Blues stomper features Dollar Bill on the drums. Be sure to grab it while you still can!
Rick Lancelot (or Ricky Lancenlotti ) may be familiar to the Frank Zappa fans amongst you, having featured on several recordings from back in 1973. 'Hoo Doo Man' is his 1965 release on RCA and was a record that instantly went into my crates. This Blue eyed Soul groover has so much going on, monster bass, funky congas, wailing guitar, snappy drums, tasty mod tinged organ and horns rises to die for. And all that is before you even get to the massive, massive vocals! Totally underplayed!
Rick Lancelot
"What-Cha Feel Is What-Cha Get" has been a staple on the Deep Funk scene amongst collectors and dancers alike and consistently commands a top end three figure sum everytime it comes up for auction. Midwest Funk doesn't come any better than this!
There's not a lot of information around on the interwebs about The Fantoms but this 1972 release is one of at least two 45s on the Power Funksion label by the group. Anyway it's what's in the grooves that counts and this mid tempo Soul groover doesn't disappoint at all!
'Never Give You Up is a record that has seen its fair share of cover versions but this 1969 take on things from Shirley and The Shirelles oozes pure class. This was the last of a trio of records the group recorded for the Bell label.
Those amongst you in the know will be aware that Jamo's take on 'I Spy' is a cover of Luther Ingram's original version, also from 1966. Jamo Thomas left the Bahamas and ventured over to Chicago, Illinois, where he eventually took it upon himself to rework the bones of Ingram's track a couple of months after its original release. It went onto make the heady heights of #98 in the pop charts and was picked up by the Northern Soul scene later on where it became a big spin at The Twisted Wheel in Manchester.
This obscure Blue eyed Soul ballad from Impact! Was a Hank Porter side project and is featured here on the Californian Alpha Label. Going by the catalogue numbers this followed the release of The 4th Coming single, 'The Dead Don't Die Alive' which has seen a pick up in plays thanks to DJ Shadow's inclusion on the Funk Spectrum compilation series.
Kellee Patterson's takes on "The Walrus Of Love's" classic and reworks it into a fantastic slab of Disco tinged Soul. Released in 1976 this just builds and builds. The drums get me every time!! Fantastic!
A tough record to follow but this 1974 Bettye Swann release on Atlantic Records is more than upto the job. It's been listed at #4 in Northern Soul aficionado, Kevin Roberts Top 100 "new" Northern discoveries and a listen to the back end of this mix will show you just why. A toughie to find in the field but thoroughly worth the effort and expense if you can find it.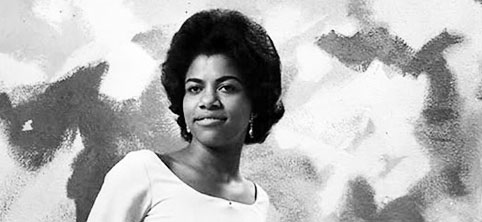 Bettye Swann
Closing out today's episode is The Falcons with 'I Found A Love', a record I picked up at a Boot Fair a few years back. The Falcons were one of the first groups that began to really push the Gospel sound into the popular mainstream, and being part of the group spring boarded the careers of its members Mack Rice, Joe Stubbs, Eddie Floyd and also Wilson Pickett, who replaced Stubbs in 1960.
The band signed to Lu Pine Records in the early sixties, a label owned by Robert West, who happened to be Eddie Floyd's uncle. Gospel tinged Soul music at its finest!
I hope you enjoyed Mo' Soul Episode 6 and be sure to head over to the Mixcloud page if you've missed any of my back episodes! Stay safe and I'll be back here shortly with some more of the 'Good Stuff' for you!
Ben


Track List
Lee Dorsey - Little Ba-by - Bell




Mary Ann Fisher - Put On My Shoes - Heat Records




Annie Williams - I've Got A Man - Fryers Records




Gloria Walker - Papa's Got The Wagon - People Records




Kenny Smith & The Loveliters- Go For Yourself - Goldmine




The Hypnotic Brass Ensemble - Flipside - Honest Jons Records




Pace-Setters - Push On Jessie Jackson - Kent Records




Chris Kenner - Sick And Tired - Imperial




Jimmy Hughes - Everybody Let's Dance - Fame Recordings




Big "T" Tyler - King Kong - Aladdin




Sheriff & The Ravels - Shombalor - Vee-Jay Records




Bo Diddley - Bring It To Jerome - Checker




Adam Burney - Return Of Jerome - Rollin' Records




Rick Lancelot - Hoo Doo Man - RCA Victor




Wallace Brothers - What-Cha Feel Is What-Cha Get - Goldmine




The Fantoms - Get A Little Bit - Goldmine




Shirley & The Shirelles - Never Give You Up (Never Gonna Give You Up) - Bell




Jamo Thomas & His Party Brothers Orchestra - I Spy (For The FBI) - Mojo




Impact! - Why Don't You Trust In Me - Alpha Records




Kellee Patterson - I'm Gonna Love You A Little More, Baby - Jazzman Records




Bettye Swann - Kiss My Love Goodbye - Atlantic




The Falcons & Band (Ohio Untouchables) - I Found A Love - Lu Pine Productions